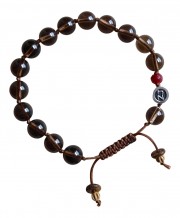 Wayne, NJ U.S.A, April 16, 2015 (Newswire.com) - zen jewelz by: ZenJen, a designer of healing crystal jewelry comprised of precious and semi-precious gemstones, announced today the 'Tailored for Men' product line in the zj shop. The long awaited men's jewelry line was designed with a high demand of men seeking a spiritual connection while also providing a more rugged design, to handle their active lifestyle. Tailored for Men incorporates the highest quality gemstones, while using a nylon base to give the added strength needed. Bracelets like 'VICTORIOUS' made of Hematite and Buffalo Bone finished off stunningly with a Ruby or the 'SURVIVOR' made of Smokey Quartz, Buffalo Bone and a Ruby gemstone are just a few of this fashion forward unique styles offered by zen jewelz by: ZenJen.
"zen jewelz has been empowering women for over 10 years with our spiritual jewelry. Over the years men have been contacting us, asking about products tailored specifically for men. We are proud to now have a product line to feed this demand. Just recently zen jewelz has designed a bracelet for Ami James of NY Ink. This line is just in time for Father's Day fast approaching or the perfect gift for the special man in your life!"

ZenJen, Founder, owner and designer
zen jewelz has been designing and selling handmade healing crystal jewelry in the USA for the last 10 years. ZenJen, the founder, owner and designer is the original creator of the fertility and goddess bracelet as seen on the Real Housewives of NJ. The company's core focus is to help manifest the dreams and wellness of the client. Each piece of healing crystal jewelry is specifically created for healing the mind, body and soul, and to assist in balancing the physical and metaphysical energies of the body while setting trends in fashion. For further information on zen jewelz or our products please visit the company's website at zenjewelz.com.
Share: