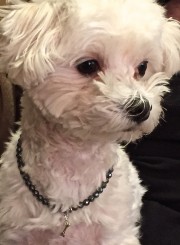 Wayne, NJ U.S.A, April 10, 2015 (Newswire.com) - zen jewelz by: ZenJen, a designer of healing crystal jewelry comprised of precious and semi-precious gemstones, announced today the product launch of zen petz. A necklace line designed to assist your pet's emotional and physical well being while setting a trend in pet fashion. It`s design was specifically made with your pet's safety in mind with a first time ever, Break Away Magnetic Clasp, engineered to release when the collar gets caught which allows your pet to slip free safely.
According to ZenJen, owner and head designer at zen jewelz, "Like people, our pets face a variety of issues that can be aided with therapeutic gemstones. Some animals may be fearful or easily upset; others may have physical health conditions. Therapeutic gemstones can provide support in a gentle and natural way. No matter what the issue or desire, therapeutic gemstones can provide wonderful benefits for pets while also looking fabulous! We are proud to be expanding our spiritual jewelry line into the pet industry, as zen petz shows how zen jewelz continues to innovate and trend set in the spiritual jewelry market."

ZenJen, Founder, owner and designer
zen jewelz has been designing and selling handmade healing crystal jewelry in the USA for the last 10 years. ZenJen, the founder, owner and designer is the original creator of the fertility and goddess bracelet as seen on the Real Housewives of NJ. The company's core focus is to help manifest the dreams and wellness of the client. Each piece of healing crystal jewelry is specifically created for healing the mind, body and soul, and to assist in balancing the physical and metaphysical energies of the body while setting trends in fashion. For further information on zen jewelz or our products please visit the company's website at zenjewelz.com.
Share: