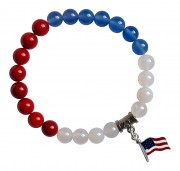 Wayne, NJ, May 18, 2015 (Newswire.com) - zen jewelz by: ZenJen, a designer of healing crystal jewelry comprised of precious and semi-precious gemstones, announced today the release of the "PATRIOT COLLECTION". The collection consists of "THE PATRIOT BRACELET", "THE USA BRACELET", "THE REPUBLICAN BRACELET" and "THE DEMOCRAT BRACELET" made of all natural Onyx and Coral gemstones adorned with various patriotic charms for only $34.99. The launch of this collection is just in time to help celebrate Memorial Day and the 4th of July. We ask everyone to support the PATRIOT COLLECTION by purchasing your favorite patriotic bracelet at zenjewelz.com.
"Patriotic jewelry, by customer demand, has recently become a trend at zen jewelz. What better way to support our country, our troops and your political affiliation then by wearing a red, white and blue natural gemstone bracelet to show your patriotism at your local parades and holiday events."

Anthony J. Glentz III, CEO, zen jewelz by: ZenJen
zen jewelz has been designing and selling handmade healing crystal jewelry in the USA for the last 10 years. ZenJen, the founder, owner and designer is the original creator of the fertility and goddess bracelet as seen on the Real Housewives of NJ. The company's core focus is to help manifest the dreams and wellness of the client. Each piece of healing crystal jewelry is specifically created for healing the mind, body and soul, and to assist in balancing the physical and metaphysical energies of the body while setting trends in fashion. For further information on zen jewelz or our products please visit the company's website at zenjewelz.com.
Share: